Equipment + Knowledge + Support = Success
Full Solutions means everything you need to create the coatings you require is provided, including process knowledge. Providing coating equipment to a diverse range of industries requires knowledge of how that equipment will be used in order to ensure success for every application. We've performed thousands of tests in our Milton, NY and our other worldwide labs. The expertise we've gained in knowing how different chemistries behave under different process conditions is a direct benefit to our customers. When application information is proprietary, non-disclosure agreements are commonly prepared as needed, protecting our customers' knowledge.
Sono-Tek's team of sales and application engineers works closely with customers to specify the correct equipment from the very beginning, with the option of in-house laboratory testing to leverage our process knowledge to optimize your coating process. Our five full-time Application Engineers and support staff are dedicated to ensuring the correct specification of each machine and the success of our customers. Many systems offer customized configurations to tailor machines to unique process needs. This unparalleled level of support prior to installation means that we are fully confident that every Sono-Tek ultrasonic coating system will perform as needed when installed.
Sono-Tek's team of application engineers provide direct customer support throughout every step of the process.
Process Knowledge
–
Discuss and Spec In Coating Equipment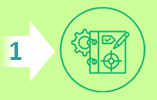 40 years of combined coating knowledge and expertise
Thousands of coating trials
Hundreds of chemistries tested
6 dedicated full time applications engineering team members
Lab Testing – Prove Concept

In-house full testing laboratory with full array of available equipment, including SEM, precision measuring equipment, photosensitive lighting, protective fume hood, curing ovens
Testing performed with or without customer present
Initial proof of concept using customer materials and substrates whenever possible
Coating Services – Produce Coated Products

In-house process development to meet customer's goals
Toll Coating services/small production run of established coating processes
Small batch coated samples to fill immediate need while Sono-Tek system is being built to order
System Design – Personalized Build for Application

Use all data and applications knowledge gained from prior steps to design and build the most effective coating solution
Thousands of system configurations possible

Installation & Support – Lifetime Process Support

Process guidance from application engineering experts for the lifetime of the system
Process refinement and troubleshooting issues, with customer site visits available
Support for future upgrades or system changes due to process alterations

In addition to the New York lab, Sono-Tek has applications labs located at distributor sites around the world; all of which are staffed with engineers who have experience working with customers on ultrasonic coating solutions.
Our global distribution network includes local language support for many countries. Select an icon on the map for location information.
We have your equipment solution. Tell us about your coating application...Contact Us